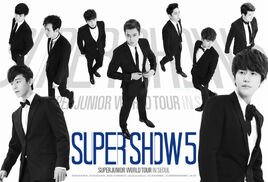 Welcome to Super Junior Wiki
All you need to know about the 13-member Kpop idol group, Super Junior!
Introduction
Edit
This Wikia page is to provide all fans, both new and old, the best information resource of the largest boy band in the world! Your Favorite Band, Super Junior!!!
Super Junior (Korean: 슈퍼주니어) is a South Korean boy band. Formed in 2005 by producer Lee Soo-man the CEO of SM Entertainment, the group comprised a total of thirteen members at its peak, and was once claimed to be the world's largest boy band. Super Junior originally debuted with twelve members, consisting of leader Leeteuk, Heechul, Han Geng, Yesung, Kangin, Shindong, Sungmin, Eunhyuk, Donghae, Siwon, Ryeowook, and Kibum. Kyuhyun was added to the group in 2006.
Super Junior launched into international recognition fin 2009, following the release of their best-selling single "Sorry, Sorry" in 2009, the title song of their most critically successful album Sorry, Sorry. The group has released and contributed to over 20 records with varying degrees of success, and was the best-selling K-pop artist for three years in a row. Over the years, they have been divided into smaller subgroups, simultaneously targeting different music industries and audiences. Largely due to Super Junior's success as entertainers, other Korean entertainment managements began to train their music groups in other areas of entertainment, such as acting and hosting. In addition to their commercial success, Super Junior has earned six music awards from the Mnet Asian Music Awards, thirteen from theGolden Disk Awards, and is the second singing group to win Favorite Artist Korea at the 2008 MTV Asia Awards after jtL in 2003.
In December 2009, Han Geng left the group after filing a lawsuit against their agency SM Entertainment. Heechul and Kangin announced their hiatus to fulfill their mandatory military service of two years, and Kibum temporarily parted with the group for his pursuit of an acting career, leaving Super Junior with nine active members.The other members still consider the four as part of the group. As of 2014, Super Junior has active 10 members.
Latest activity
Edit
Super Junior
[1]

Super Junior members at the LG Optimus Super Junior Fan meeting, hotel CHATEAU de CHINE, Kaohsiung, Taiwan, November 2011

Background information
Also known as
SJ, SuJu
Origin
Seoul, South Korea
Genres
K-pop, Pop, R&B, dance-pop, electropop,Dance, hip-hop, bubblegum pop
Years active
2005–present
Labels
S.M. Entertainment (South Korea)Avex Group (Japan)
Associated acts
Super Junior-K.R.Y.

Super Junior-T Super Junior-M Super Junior-Happy SM Town S.M. The Ballad M&D

Website
superjunior.smtown.com
Members
Leeteuk

Heechul Han Geng Yesung Kangin Shindong Sungmin Eunhyuk Donghae Siwon Ryeowook Kibum Kyuhyun
External Links
Edit