Zhou Mi (born on April 19, 1986) is a Chinese recording artist and entertainer. He is a member of SM Entertainment's sub-group, Super Junior M. Being in Super Junior M, Zhou Mi wrote the lyrics for the songs, "Love Song", "Marry U" [Chinese Version], "A Man in Love", Confession", "You & Me", and "True Love". He also wrote the lyrics for Kangta's first Chinese mini-album in 2010.
"Stage of Youth" (2009) as Himself/Guest
"Korean Impressions" (2010) as Host/VIP Guest
"China Southern Airlines Beauty Pageant" (2010) as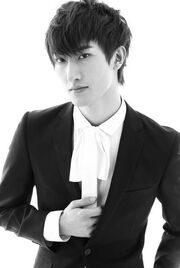 "Melody of Youth" (2011) as Gao Da
"When Love Walked In" (2012) as Lu Shang Lin
"Goodbye" (Skip Beat! OST)
Ad blocker interference detected!
Wikia is a free-to-use site that makes money from advertising. We have a modified experience for viewers using ad blockers

Wikia is not accessible if you've made further modifications. Remove the custom ad blocker rule(s) and the page will load as expected.